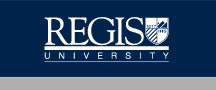 Regis University MBA Program
Welcome to the MBA Foundations Suite
Why am I here?
In order to complete successfully certain Regis University MBA courses, you will need specific foundational knowledge. To obtain these foundational skills, Regis offers students the MBA Foundations Suite as an alternative to completing traditional undergraduate courses such as financial accounting principles, managerial (cost) accounting principles, and business finance. MBA students who do not have these skills struggle unnecessarily in graduate courses. The MBA Foundations Suite will help you acquire skills you may still need, before you begin your graduate coursework. You must pass each area of all three modules before beginning your MBA studies.
How does this work?
The MBA Foundations Suite consists of three modules: Accounting Fundamentals, Financial Accounting, and Finance. You will begin each module by completing:
An online reading that is similar to a reading from a text. However, unlike a traditional text, videos, animated demonstrations, and interactive exercises may be embedded in the reading.
An initial assessment comprising a series of questions that identifies any skills you presently do not have.
When you access a module you may choose to complete the initial assessment before completing the reading and its embedded activities. However, to use your time efficiently, we suggest you complete a module's assessment before you complete its reading only if you feel highly confident that you have the skills comprising that module.
After you have completed a module's initial assessment, you will be directed to those webpages in the module's readings that relate only to your skill weaknesses for further study and assessment. You will review readings and complete additional assessments until you have acquired all of the necessary skills in the module.
How should I approach the assessment?
To obtain the most successful and time-efficient outcome from the initial assessment for each module, we recommend you:
Set aside at least 60 minutes to complete the assessment.
Complete it entirely at one time, without interruption or reference to the reading or other resources. You may respond to any assessment question by submitting a blank answer which means "don't know." To obtain the most useful results from the initial assessment, submit a blank answer for any question you cannot answer with reasonable confidence and continue completing the assessment. Note that once you submit an answer to a question, you will not be allowed to change your answer.
After completing it, view your results (on the results page) noting the skills you still need. The results page will include recommendations to acquire efficiently these skills as well as links to the pages in the readings that correspond to these skills. Carefully study these pages before attempting again the assessment related to these skills.
You will have as many opportunities as you need to complete successfully the assessment. These subsequent attempts will address only those skills identified as missing in your previous attempts. To minimize the total number of assessment questions you must answer in the initial and subsequent assessments, the module selects the next question for you to answer based on whether you answered the preceding question accurately. Subsequent assessments may present you questions previously presented in your earlier attempts.

You may also click the "results" button at the top of your screen to review your progress during an assessment. However, to use your time most efficiently while completing the assessment, avoid frequent progress checks.

You may click the "X" exit button at the top of your screen at any time to pause the assessment. When you log into the module again, you will resume the assessment where you left off.
For what technical issues should I be prepared?
Lost connection: If you lose your connection while completing an assessment, you may resume it once you reestablish your connection and log back into the module.
Scroll bar: If an assessment question does not fit in your browser window, use the scroll bar on the right side of the window to scroll through and read the remainder of the question.
What if I still have questions
If you still have questions about the assessment (or about the MBA program foundation knowledge requirements generally), please contact your Academic Advisor.